Northeastern Ohio Chapter #12 Activities


April 16th, 2016
Patriot's Day
In recognition of the contributions of our patriot ancestors, the NEO Chapter Sons of the American Revolution celebrated Patriots Day with an address provided by President George Washington, aka Dale Fellows. Wearing period attire, Mr. Fellows provided an informative historical first person account of the life and trials of President George Washington. His address was followed by a question and answers.
Also the Chapter introduced and inducted two new members. Past Ohio State SAR President Bob Parvin inducted Frank Wood of Madison, Ohio and Kent Marks of Painesville, Ohio. Compatriot Wood's Patriot Ancestor is Remberence Filly and Compatriot Marks's Patriot Ancestor is Christian Straley. Both received their official membership certificate and rosette from their sponsors.
Following the induction the 2016 Chapter Poster Contest winner, Patrick Beebe, was introduced and presented with a Participation Certificate and a cash prize. Patrick is the son of Nick and Christian Beebe, and is a 5th Grade student in Rock Creek. This contest is open to students in 3rd, 4th or 5th grade, depending on when the American Revolution is taught in their school system. The theme of the poster is "Revolutionary War Events".

Left to right – Troy Bailey, Tim Ward, Kent Marks, Bob Parvin, and Frank Wood.

Left to Right – Troy Bailey, Patrick Beebe, and Jim Gilbert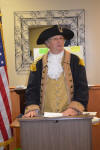 President George Washington (Dale Fellows)

2016 Chapter Members Inducted
February 13th, 2016

Left to Right: Tim Ward, Troy Bailey, Dan MyGod Bless America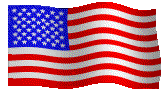 Last Updated: